ADS-B Amplifier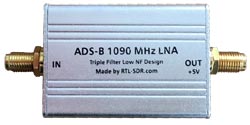 This small amplifier helps improving the ADS-B reception of the ADL180, ADL190 and ADL200. The gain is often significant but please consult the latest user manuals for details. This amplifier is not made by us. We just resell it for your convenience if required and encourage you to buy it at the source:
RTL-SDR Blog 1090 MHz ADS-B LNA
Direct link to their shop:
RTL-SDR Shop
Please note we do not get any commission on those links. We just recommend the product as it did perform very well in our tests.
Compatible: ADL180/190/200
40,- EUR + VAT